Bart McFarland, DMD, FDOCS, MICOI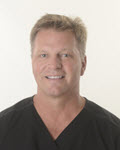 We are proud to have served patients in our community for over 20 years. Through continuing education and state-of-the-art equipment, our practice is able to offer you and your family the high level of care you are looking for.
Our team at Bart McFarland PSC will give you a warm welcome and our ongoing commitment to your dental health.
Dr. McFarland was raised in Bourbon County where he graduated in 1979. He went to Eastern Kentucky University and majored in chemistry. He then applied to medical and dental schools at University of Louisville and Kentucky. He chose dental school at UK where he graduated with a Doctor of Dental Medicine (DMD) degree in 1987.
In his last year at UK, he invented and patented a protective sleeve needle to reduce the chance of accidental needle sticks for patient, staff, and clean up crews. The needle is in several of the most prestigious dental schools in the nation and in private practices in the US, foreign countries and now being tested in the US Military for use. We use the needle here for the protection of our patients and staf
He is the only CEREC trainer in Ky. for the company PATTERSON dental.Doctors from other states and Ky. come to be trained on this technology. He is also the trainer for he technology GALILEOS (cat scan use to place implants) for the state of KY.
Besides being named trainer for the state in these technologies, he has recieved a MASTER from the INTERNATIONAL CONGRESS OF ORAL IMPLANTOLOGY and FELLOWSHIP from the DOCTORS OF ORAL CONSCIOUS SEDATION.
After graduating, Dr. McFarland opened a private practice in Paris.
He married Pam Plummer, also from Paris, in 1992. She is a dental hygienist and currently works in Winchester. They have one son, Houston, who was born in January 1998 and a daughter, Hagan, born in February 2003.